=> All the articles <=
The end of the interviews... but here comes the speech!
Jean-Michel Loser - 2020-11-24 13:58
Maybe you already noticed it, Nelson became
kind of reluctant
to interview players and ask them week after week the same stupid questions... Thanks to MickaeLLTLodra (among other), he was helped to achieve this unrewarding task. A big thank you to
him
!
Now it's time to stop this tradition. The different admin tasks take quite a lot of time. BUT, but, but, it will still be possible for players to share their reactions, and to keep a way to give some life to your avatar ! It's now possible to write a speech, for a limited number of players.
Each time a tournament is closed, an email is sent to 3 players : the winner, the runner-up, and the unlucky loser. This email contains a link to the page where you can type in / edit / review and publish your speech !
Please have a look to our
LLTL Finals
, the three players have published their speech. They will be displayed with the scores page of the tournament :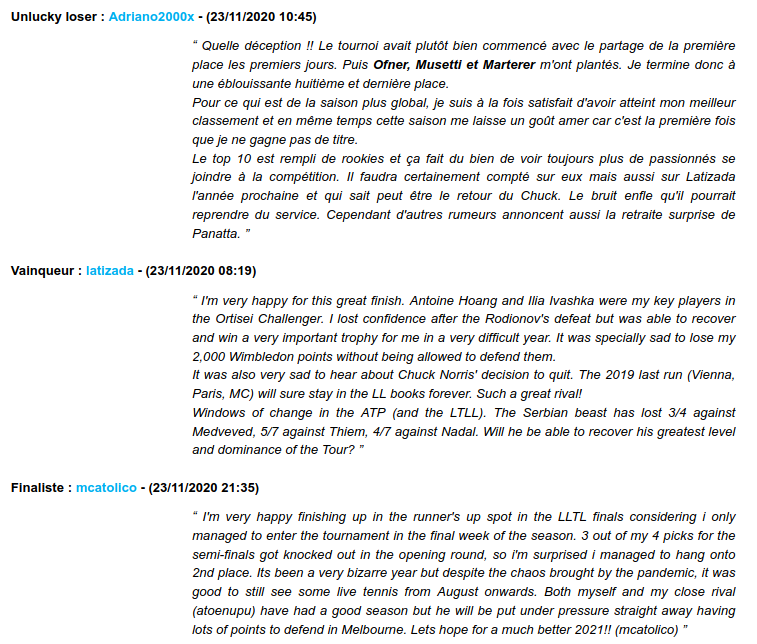 As usual, feel free to tease other players, share your feelings, hide some links, etc.
By the way, the
Top20 ATP 2020
is closed, which means that
Elnino09
,
Rapha
and
Adunar
can write a speech !
LLTL double finals + LLTL NextGen Finals => list of players
Nelson Loser - 2020-11-07 10:20
Three tournaments next week, keep in mind that you can join
only one of them
!
Players written in bold are those who are nominated both in the Double and NextGen finals. They will have to choose ;-) No way back when you have validated a draw.
For the
Linz - Double Finals
, you can team up with anyone among:
Cocojumbo - anekfu - kayoo83 - Topper - tenedab -
Tono
- srematias - gasgalarza - EvilScootus - atoenupu - ezequiel2014 - JSPAD95 -
Drivers
- dwightcharles -
Panatta
- SNAP
The substitutes are : ClementClair - Adriano2000x - ThePunisher - homermanu
For the
NextGen LLTL Finals - Slovak Open
, the nominated players are :
Panatta
- TennisElbow -
Tono
- LeTennis - jeanlebosquet - Energyx17 - PrinceGaga -
Drivers
Substitutes : Tipsytime - Snollygoster
Any other player can join the
Sofia Open 250
, NO CUT.
LLTL
ATP
WTA/Double
Yearly
Race
attente

Rookies
Leaderotron
Mega Patate
Big Lose
Clay

Grass

Hard indoor

Hard outdoor

attente